---
In focus
One year on from unrest in East Leicester
TLDR: This month marks the one-year anniversary of the violence and disorder in East Leicester that grabbed headlines worldwide. Multiple inquiries have been launched, and 32 people were found guilty of various offences.
The unprecedented unrest between groups of Hindu and Muslim men between August and September last year dashed Leicester's reputation for community cohesion.
Leicester City Council announced an inquiry in October 2022. But it was stalled when the Hindu community refused to participate after the lead, Dr Chris Allen – Associate Professor in Hate Studies at the University of Leicester – was accused of being too biased.
After the unrest, Leicestershire Police led a significant investigation called Operation Energy, which saw a large amount of evidence reviewed and scrutinised. Chief Constable Rob Nixon said: "Over the last year, we have worked hard to engage with local communities to listen to their concerns and to closely monitor tensions".
The government recently announced they would be conducting their own review of why the events happened, chaired by Lord Austin, former Minister for Housing and Planning and former Minister for the West Midlands. Lord Austin has come under fire for his "divisive record" and "lack of legal background".
Leicestershire Police have since commissioned an internal review, which will be shared with the government "at the appropriate time", according to a press release on their website. They will also share it with the city council, local community, and faith groups.
In response to the unrest, the police have:
Appointed a Chief Superintendent for the city of Leicester
Added additional resources to East Leicester's local Neighbourhood Team on late shifts
Ensured that officers working in East Leicester were briefed concerning cultural sensitives, religious festivals, and prayer times
Offered religious leaders and local councillors the opportunity to carry out joint patrols with officers, including with senior police officers
Installed additional CCTV based on crime patterns and data from the Violence Reduction Network.
32 people were found guilty of offences ranging from possession of weapons to threats to kill.
Sentences included ten months imprisonment, fines, electronic tag curfew, and unpaid community work, among others.
---
Weather forecast
⛈️ This week: On Tuesday, the last warm air should have cleared, with winds feeding in plenty of showers if you have not had them already. Some of these will be heavy and thundery, especially in the north and west parts of the county.
🌧️ 🌥️ Next week: A risk of strong winds and heavy rain. Temperatures will begin averaging out, although summer clings on with further warm spells likely during sunnier intervals.
Source: Met Office
---
In the news
---
What's On
Key:
📰 – Run by the Great Central Gazette
🚨 – Last chance
💷 – Entry fee
🆓 – Free of charge
Various social, political and financial hurdles continue to prevent access to education. To mark back to school, we'll explore the right to education, including barriers and exclusion in Leicester.
One morning Gregor Samsa awakes to find himself changed. To those around him, he is dangerous, untouchable vermin. Worse than that, he is a burden.
The Leicester Textiles Festival transforms the city into a buzzing and engaging hive of activity as people come together to discover the festival through various exciting textile events.
Joanna Holland's first solo exhibition, 'Out of the Blue', shares her lived experience of chronic illness. It brings together photographs, video, soundscapes and text from different bodies of work created over the last three years.
This exhibition from the Migration Museum shines a light on the stories and experiences of people who have come to Britain to work in the NHS through photography, film, oral histories and an immersive experience that brings together singing and storytelling.
---
On the market
This spacious, attractive four-bedroomed barn conversion in Glenfield is perfect for a large family. It is in fantastic overall condition, with many original features retained throughout, but it has a slight modern twist.
Price: £799,950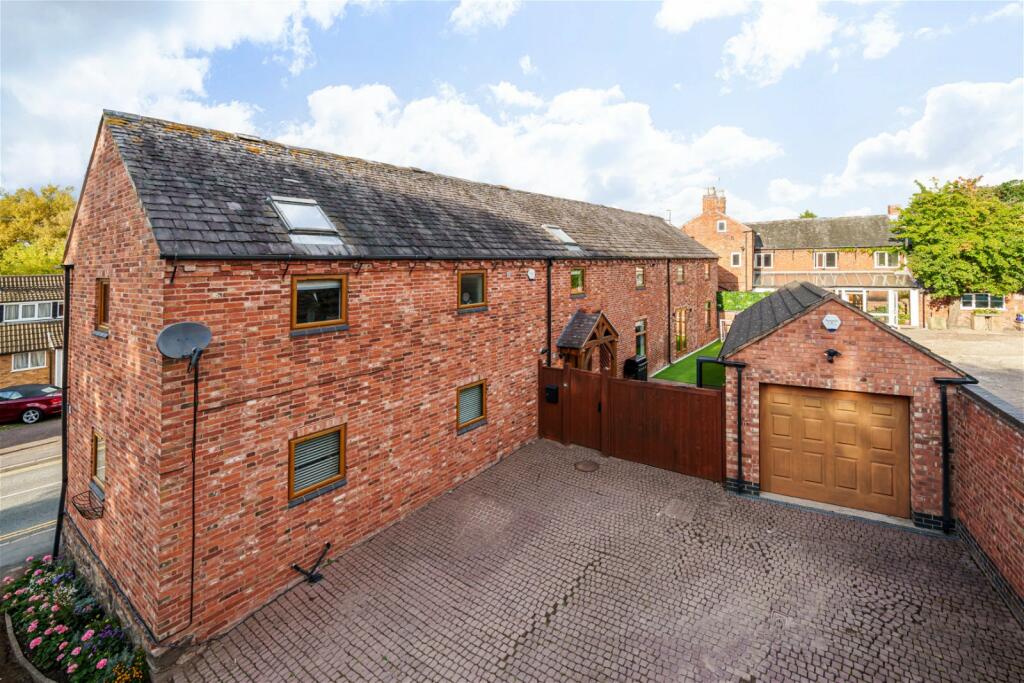 ---
Sports highlights
Foxes triumphant. LCFC Women beat Everton 3-2 in a pre-season friendly. Read more
Cure Leukaemia. CEO James McLaughlin aims to complete ten half marathons in ten days in aid of blood cancer patients. Read more
Tigers away. Leicester Tigers travel to Manchester in the second week of the 2023/24 Premiership Rugby Cup to face Sale Sharks. Read more
---
Food and drink
The Veggie Feast Toastie (v) from Gray's Cafe LCB Depot was a pleasant and unique quick bite that took me by surprise; it was covered in delicious and spicy vegetables with a plethora of cheese to go with it. For me, the amount of cheese took away the toastie's crunch, but overall, I was happy and would have it again.
Price: £9.75
---
Flashback
Spotted on the Athena's Facebook page, who remembers the Odeon?
Comments