Inside Leicester
Council publishes "ambitious" draft Climate Emergency Action Plan
Plus Remembrance Day, Diwali, and ash trees in Highway Spinney
---
In focus
Council publishes "ambitious" draft Climate Emergency Action Plan
by Rhys Everquill
TLDR: Leicester City Council has outlined its steps to address climate change in a new draft of the Climate Emergency Action Plan, open for public consultation until Sunday, 10 December 2023.
The detailed 68-page strategy, available on the council's website, highlights various initiatives to combat the climate emergency, including achieving net-zero emissions, reducing fuel poverty, implementing low-carbon public transport, enhancing biodiversity, optimising waste and recycling, and launching a 'city-wide communications campaign'.
With the impacts of climate change already being felt in Leicester and expected to worsen, the council is looking towards further central government funding and private investment to fund these projects as it struggles to cover the funds itself amid bankruptcy warnings.
Deputy City Mayor Adam Clarke, who leads on climate, economy and culture, said: "When we launched Leicester's first Climate Emergency Action Plan in 2020, we were under no illusion about the scale of the challenge we had set ourselves as a city.
"We've achieved a great deal since then, building on Leicester's already strong record on carbon reduction, but we know we still have a huge amount do as a city.
"Our ambitious new action plan will aim to build on that momentum of the last three years. As a council, we will continue to lead by example and do all we can to reduce our carbon footprint to net zero. We also want to continue to encourage and help others to reduce their own impact.
"The council can't achieve the goal of a net zero city on its own. To meet this ambition will require significant and ongoing support from the Government and from local stakeholders".
Leicester Climate Emergency Partnership
The council's local stakeholders include the Leicester Climate Emergency Partnership, established in February 2022 as an advisory group to help implement the council's existing strategy. It consists of Severn Trent Water, the universities and Leicester College, charities, and other public authorities.
But most notably, the only energy company present is E.ON. In the UK, E.ON lobbied heavily for lower taxes and against further regulation in 2022. An investigation by openDemocracy revealed that E.ON complained that the energy price cap at the time made the UK an "unattractive place to be an energy supplier".
While this lobbying took place, energy bills were heading towards £4,000. E.ON had just paid their director over £5 million in 2021.
In 2017, E.ON worked with the council on an energy efficiency scheme for at least 135 homes. In 2021, the company closed its Leicester-based call centre near King Power Stadium.
---
Weather forecast
by Phil Morrish
A very unsettled fortnight of weather looks set for our region, with periods of rain at times and some strong winds but with temperatures close to average with a few milder days, too. There is no sign of any high pressure arriving during the period, so the weather will continue to move in from the Atlantic.
🌧️ Monday 13 November: A very unsettled start to the week as storm Debi passes to our north. We will have a wet start, which will clear the showers. Winds will gust up to 45mph at times. Max: 13C | Min: 8C.
🌧️ Tuesday 14 November: A typical day of sunshine in the morning with showers after midday, some heavy. Max: 12C | Min: 8C.
🌦️ Wednesday, 15 November: A mainly dry day with plenty of sun with only a few showers. Max: 10C | Min: 5C.
🌧️ Thursday, 16 November: Another Atlantic low pressure will arrive to give us more heavy rain and strong winds again gusting to 40mph. The rain will clear to showers. Max: 10C | Min: 8C.
🌦️ Friday, 17 November: Another day of sunshine and showers with a brisk west wind and a max gust of 25mph. Max: 10C | Min: 6C.
🌦️ Saturday, 18 November: Another wet start in the morning, then sunshine and showers. Max: 13C | Min: 10C.
☔ Fortnightly outlook: From Monday 20 November, weather will be similar as low pressure from the Atlantic dominates with periods of rain at times interspersed by showers. It will sometimes remain windy, with maximum gusts up to 40mph. Temperatures will be close to average, being in the range 9-13C by day and 3-5C at night, so frost is unlikely on most nights. So keep your umbrella handy for the next fortnight, but on some days, the wind may be too strong to use it!
---
In the news
by Rhys Everquill
---
What's On
by Leah Everquill
Key:
🚨 – Last chance
💷 – Entry fee
🆓 – Free of charge
The Noël Coward comedy is being performed at The Little Theatre by the Leicester Drama Society and is directed by Jordan Handford. Tickets between £15-17.50.
Do you like trains? Head to Leicester Guildhall for an afternoon talk about the railways in several European countries. Choo-choo! Tickets £4.50 each. Starts at 2pm.
Pop down to the Sue Townsend Theatre to watch sitar player Shakir Khan, accompanied by Surdarshan Chana on the tabla, play Indian classical music. Enjoy Indian snacks and chai during the interval! Tickets £20 each. Starts at 6pm.
Ring in the festive season with an evening of events in Leicester city centre. Enjoy Christmas music and decorations in and around Highcross before the official light switch-on at 7:45pm. Ho ho ho!
Leicester Museum & Art Gallery is showcasing the recently restored paintings of Juan Rodríguez Juárez. The exhibition, presented by Opal 22, looks at class and racial classification themes.
---
On the market
by Rhys Everquill
This immaculate three-bedroom semi-detached house in Stoneygate features an entrance hall, generous sitting room, open plan extended fitted kitchen dining and living area, first floor with three bedrooms and an extended family bathroom.
Price: £365,000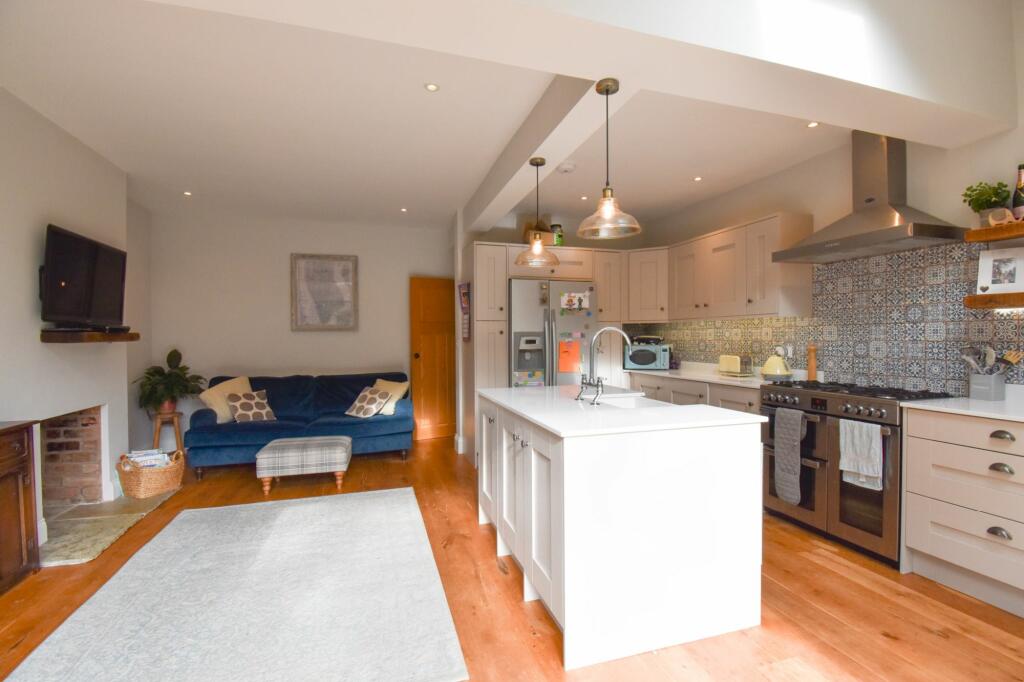 ---
Sports highlights
by David Landwehr
Cricket: Alfonso Thomas has been selected as the new head coach of Leicestershire CCC. The decision follows a successful List A trophy campaign with assistant coach James Taylor. Read more
Karting: Peckleton native Archie Clark has been selected to participate in the RMC Grand Finals in Sakhir, Bahrain, adjacent to the same circuit his F1 heroes race on. Archie is the grandson of UK rally legend Roger Clark, who became the first UK rally champion in 1976. Read more
Football: England triumphed against Belgium in the UEFA Women's Nations League match at King Power Stadium. Mary Earps made a spectacular save, keeping England in the game. Earps save was followed by a Millie Bright/Lauren Hemp combo, resulting in the only goal scored. Read more
---
Food and drink
by David Landwehr
While wandering through the city centre, I stumbled upon Bryter Moon Deli, next to the Silver Arcade entrance and across from The Dark Side Café. I ordered the Baked Camembert because... cheese. I will be honest here, there is not much to go wrong. They pair good bread with good cheese, chutney, fruit and salad. Well done to the Bryter Moon Deli for not making something more complicated than it needs to be.
Price: £8.95
---
Flashback
by Megan Lupton
Leicester Market bustling with people celebrating the coronation of King George V and Queen Mary in 1911. Spotted on Story of Leicester.