Inside Leicester
Leicester City Council in crisis after bankruptcy warning
Plus an ableist slur from a local councillor, arson attacks in Fosse Meadows and Palestine Action protests.
---
In focus
Leicester City Council in crisis after bankruptcy warning
by Rhys Everquill
TLDR: The council has banned all non-essential spending over £5,000, with reserves set to run out next year. It has £66 million left, but the council will spend at least £34 million before April. They expect to run out of funds halfway through the next financial year. Essential services will be deeply affected.
City Mayor Sir Peter Soulsby has written to the government to explain the council's worsening financial situation.
Leicester City Council has some £66 million left in its reserves as of March 2023. Still, it expects to spend over half – £34 million – before the financial year ends.
Currently, spending is hurtling the local authority towards bankruptcy. If it cannot produce a balanced budget, which the council is legally obligated to do, it will have to file a Section 114 notice, which is the legal process of starting bankruptcy proceedings.
Sir Peter's letter to Michael Gove, Secretary of State for Levelling Up, Housing and Communities, calls for increased financial support from Westminster.
Adult social care and children's services is one of the council's biggest spends, with adult social care set to cost an additional £14 million alone between 2023-24.
Sir Peter announced a freeze on all non-essential spending in an email to councillors earlier this week. He said: "We are a responsible council. In their recent report, our external auditor writes that Leicester City Council has 'a strong record of financial and budgetary management' and that they have 'not identified any significant weaknesses in arrangements to secure financial sustainability'".
Essential spending includes but is not limited to, social care, maintenance of buildings and roads, housing, and schools.
In a press release, Amy Oliver, the council's finance director, said: "Councils are under unprecedented financial pressures. It is a legal requirement for councils to provide some services, such as social care, and if the cost of these services continues to go up, either the Government must provide more money or other services will have to be cut".
According to the council, the reasons behind their severe financial outlook include:
Limited funds from Westminster
A decade of austerity between 2010-2020
The Covid-19 pandemic
Inflation
Increasing costs
A new round of austerity measures
The council approved the latest spending plans for 2023-2024 on 22 February 2023.
---
Weather forecast
by Rhys Everquill
⛈️ This week: Quite cloudy and cool, with a few light showers. As we move into the middle of the week, there may be some stormy weather with much stronger rainfall, strong winds and temperatures close to the seasonal average.
🌦️ Next week: Slightly less unsettled, with drier and cooler spells with light winds. There may be some rain and showers in parts.
Source: Met Office
---
In the news
by Rhys Everquill
---
What's On
by Leah Everquill
Key:
🚨 – Last chance
💷 – Entry fee
🆓 – Free of charge
The hit West End musical comes to Curve Theatre as part of its UK tour. Enjoy an exciting evening out and watch some of The Drifters' most iconic songs performed live on stage. Tickets are almost sold out, so book quickly!
Take the little ones to a fun, creative arts class at Curve Theatre. For children aged 18 months to four years, with a maximum of two adults to join! £3 per family. Every Tuesday, 10:30am to 11:30am.
Visit a display of fabulous artwork at Attenborough Arts Centre. Habib Hajallie's tool of choice – the black ballpoint pen – is used to create portraiture of figures from ethnically diverse backgrounds.
Haunted Heritage is hosting a spooky tour of this grand, 18th-century Grade II listed building in Leicester. Paranormal delights and frights await! Over 18s only. £45 per person.
Leicester Museum & Art Gallery is showcasing the photographic work of local artist Kavi Pujara. The exhibition focuses on those living in and around the Melton Road to Belgrave Road area, celebrating the culture of this community.
---
On the market
by Rhys Everquill
This four-bedroom detached house in Glenfield has three bathrooms and plenty of character. It is a mix between old and new and is perfect for a large family looking for a new home. The kitchen is exceptionally well equipped, with built-in appliances, an island and underfloor heating.
Price: £675,000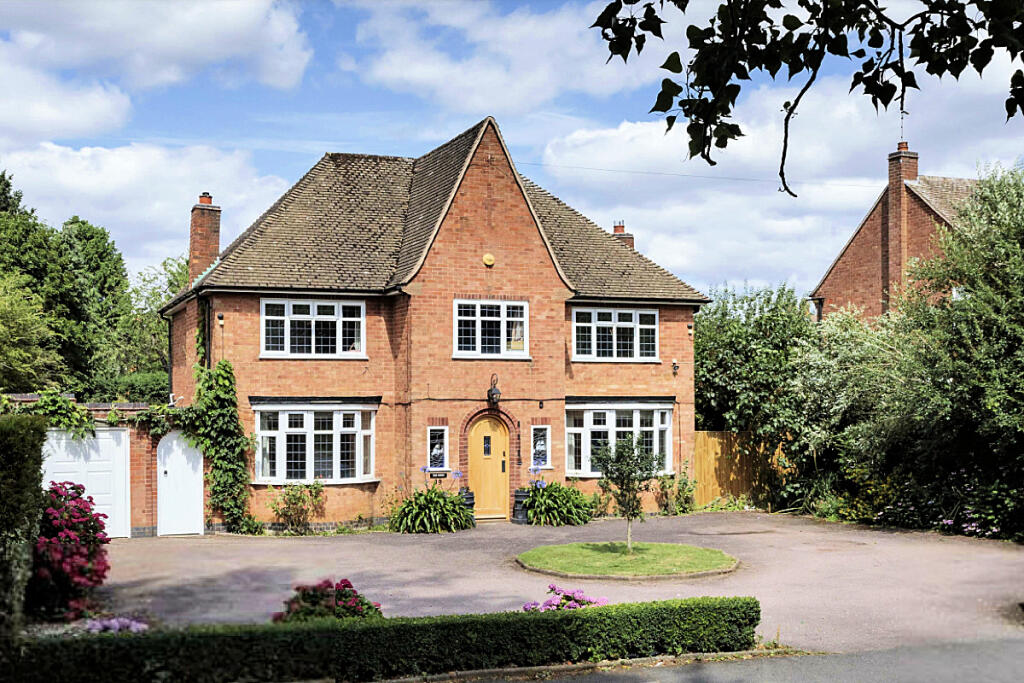 ---
Sports highlights
by David Landwehr
Football: The Leicester City train stops for no one! Unless you are Hull in early September. Leicester maintains their very comfortable seat at the top of the championship after beating Sunderland 1-0, with second and third going to Ipswich and Leeds. Read more
Basketball: Britain's oldest professional basketball team, Leicester Riders, mounted a fantastic comeback against the Surrey Scorchers in the second half. Miryne Thomas gets the gold star with 20 Points, 11 rebounds, four assists and two steals to bring the Riders back from the brink. Watch back
Rugby: The Tigers take on a top-of-the-table Bath this weekend. Leicester is still struggling, with most of the team away for the World Cup. Read more
---
Food and drink
by David Landwehr
Baked by Neelu in Groby has stumbled upon an undiscovered ingredient, or perhaps actual magic, in their vegan desserts. I ordered the six-pack of brownies from them, which are some of the best brownies I have ever had. My favourite is a toss-up between the peanut butter and the chocolate orange flavours, perfect with a cup of coffee. The best part is that Neelu and her husband, Javed, are some of the friendliest, most caring people I have ever met.
Price: £21
---
Flashback
by Megan Lupton
The Corn Market in Leicester was immortalised through James Taylor's drawing, pictured, dated 1745. Spotted on Local History Videos' website.